Welcome - English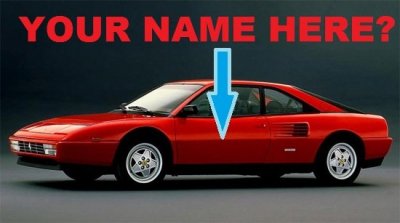 WELCOME! So what's the big idea here anyway? 
I'll try to sum up what my blog http://rogerfriberg.blogspot.com is all about.
Is it a bad thing to have dreams, or goals?
Think about it.
Think about the word "dreamcar".
The Car.. of your Dreams..
For many people it will forever be just a dream.
I want to LIVE my dream.
I want to DRIVE my dream.
For me, the Car of my Dreams is a FERRARI MONDIAL T.
And I had a stroke of genious. Or perhaps a stroke of Idiocy, depending of how you wish to see it. ;-)
I know that you don't get ANYTHING for free in this world.
And I don't plan on getting my Ferrari for free either. I came up with what I hope will be a funny enough plan for people and companies to accept!
For EVERY PERSON and company donating to me to afford buying my car, I will permanently put your name on the bonnet of the Ferrari!
Bigger spenders get bigger placement of course.
So far I have started a blog, a Facebook-group, several adds on different sites to promote my idea and have contacted several Swedish motoring magazines and got published in two of them, including "TOP GEAR MAGAZINE Sweden" and are now in the progress of contacting additional companies to see who will help me live my dream and be part of a Ferrari, for the rest of my life.
You can see all adventures, happenings and achievements on my blog; http://rogerfriberg.blogspot.com
I am truly serious about this. All donations will go directly to ensuring me getting my Ferrari Mondial, and every single donator WILL be on the bonnet, visible for everyone to see!
Be part of my life.
Be part of my Dream.
And mostly;
Be a Part of my Ferrari!
Thank you for letting me tell you about my Dream.
Now it would honour me if you choose to be part of it.
Roger Friberg, Sweden.
Please visit my blog http://rogerfriberg.blogspot.com for the latest happenings!
Cheer me on, yell at me or just ask me something?